Inter School Art Competition
Art adds colours to our lives. It increases self-confidence and self understanding; ensures enhanced communication skills, and improved cognition. It improves emotional balance and helps kids become team players.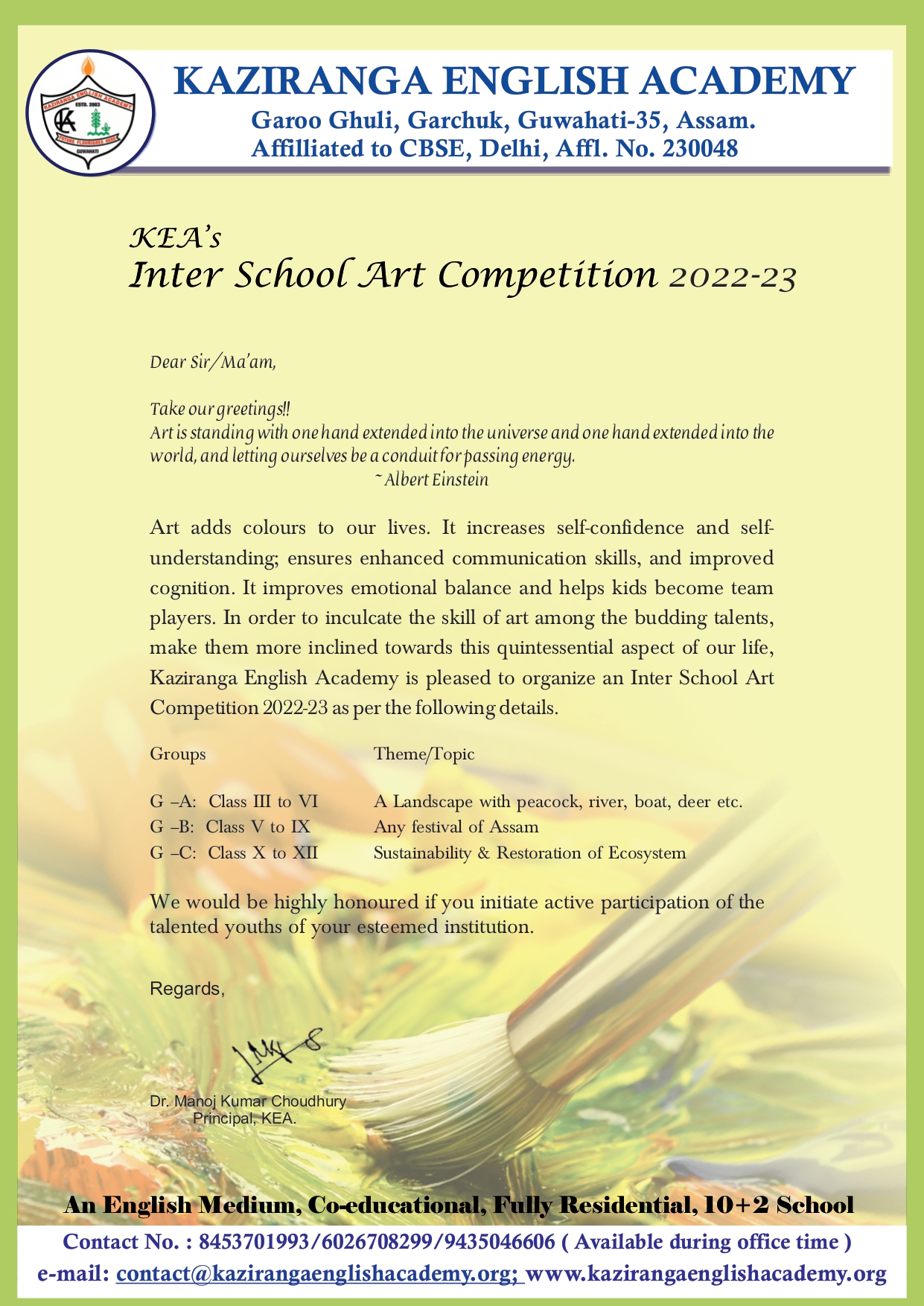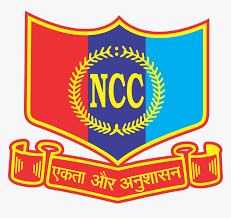 The Cadets are given basic military training in small arms and parades and also NCC. provide a student Cadet, a suitable environment to take up a career in the ARMED FORCES.
Dr Stephen Strange casts a forbidden spell that opens a portal to the multiverse. However, a threat emerges that may be too big for his team to handle.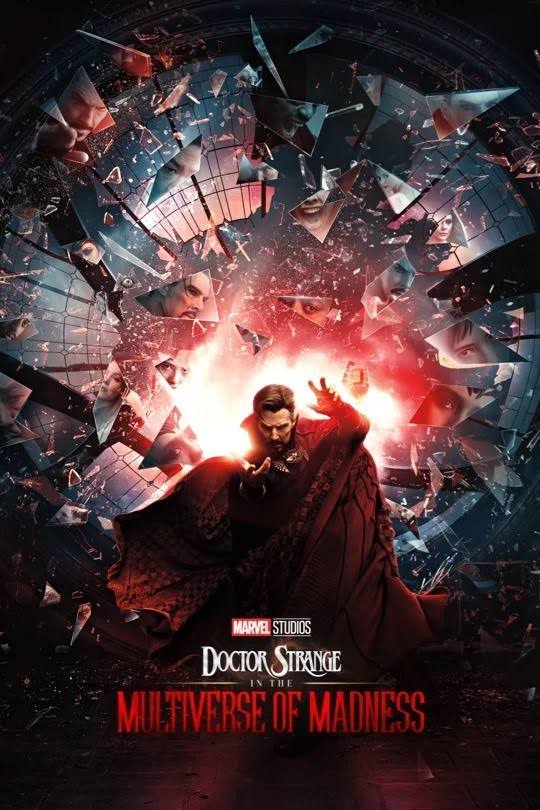 By walking, we cultivate a positive attitude toward life. Walks in nature are the best way to keep depressing thoughts from occupying our minds.
A Friendly Vollyball Match
Good evening! A friendly volleyball match between our school and Royal Global School was held at Royal Global School this afternoon. Our school won the game by 3-1.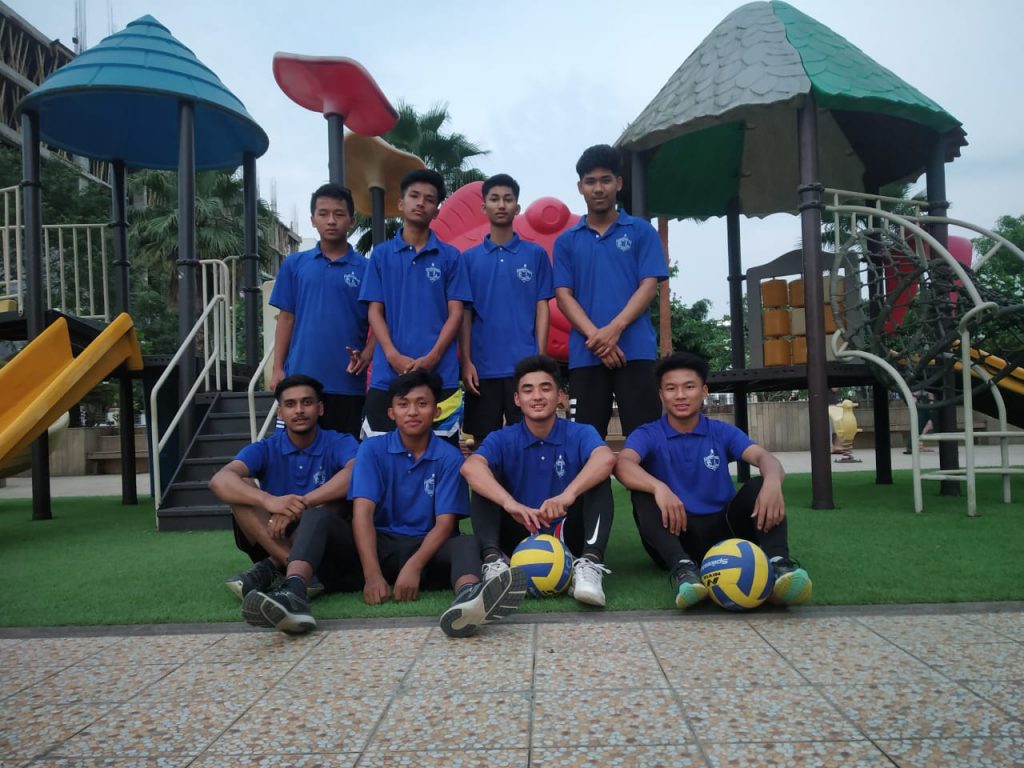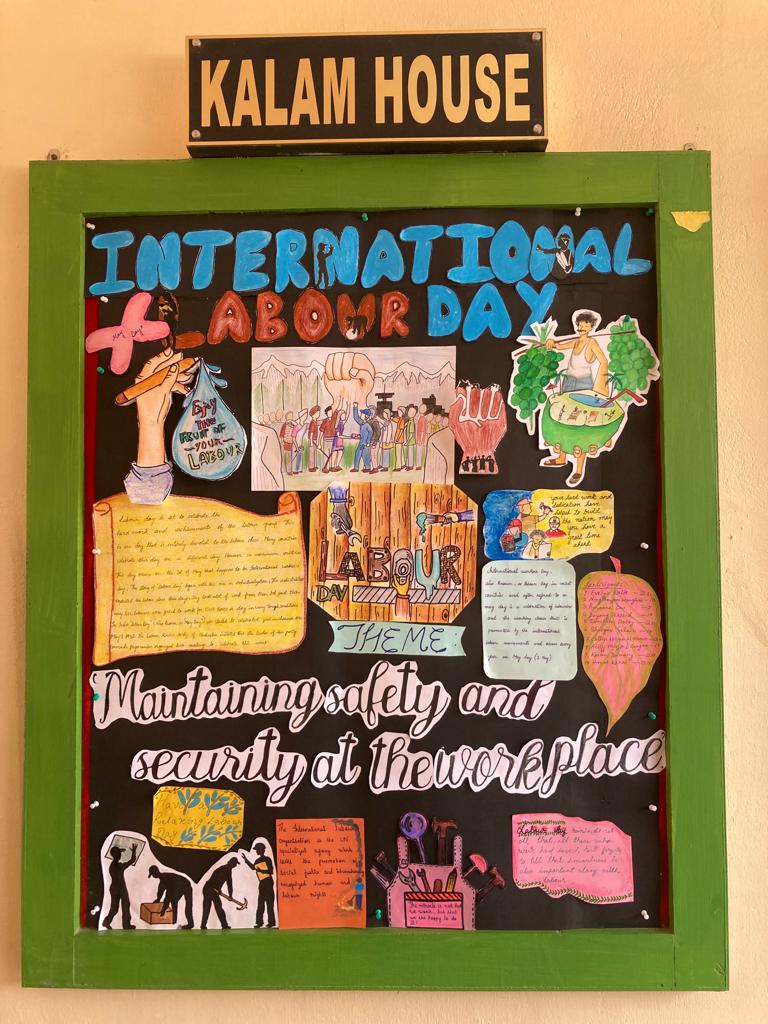 The school celebrated International Labour Day to salute the efforts of the labour force. 
Soft board competition on the occasion of international labour day held on 01.05.22  and distributed the participants certificate.
14 May 22: Poetry recitation is literary work where ideas and feelings, accentuated with the use of distinctive style and rhythm is delivered through a public speaking activity with a focus on rhythm, alliteration some repetitions.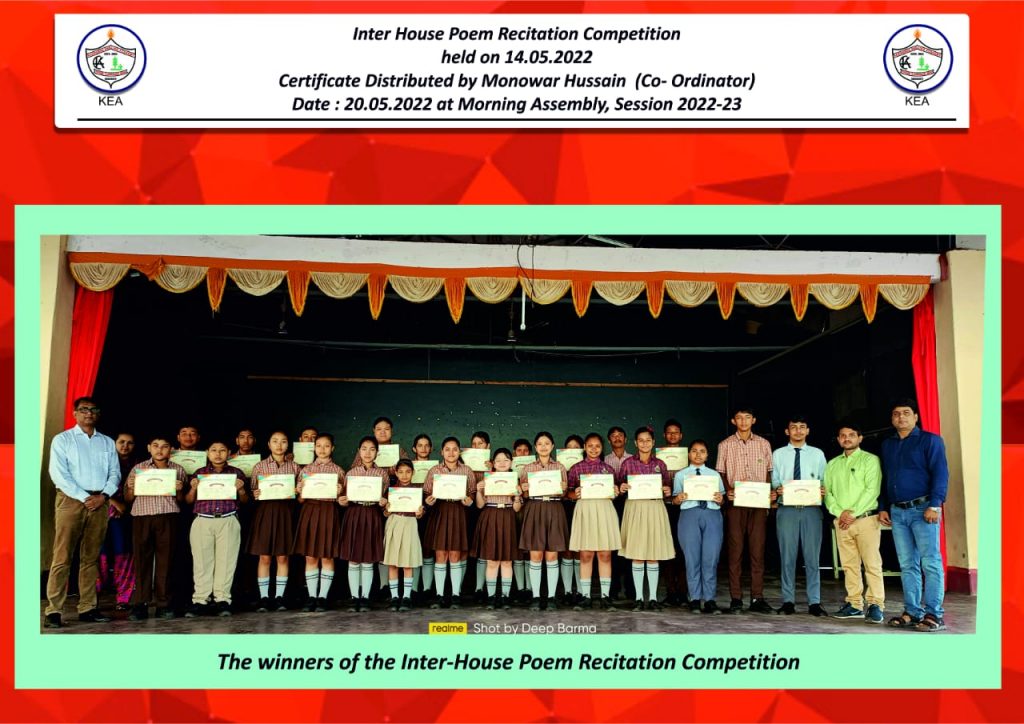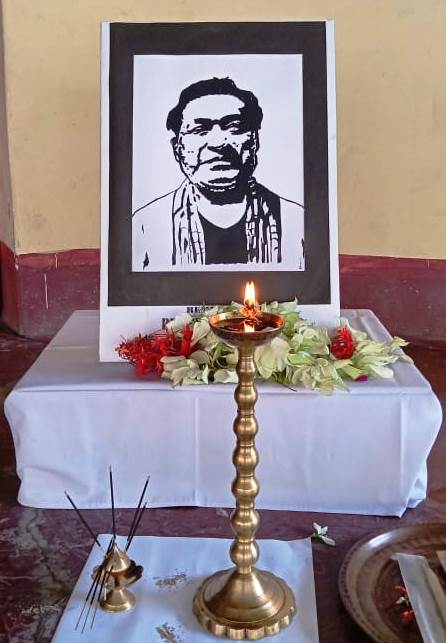 Bishnu Prasad Rabha Divas
20 June 22: Bishnu Prasad Rabha was an Indian cultural figure from Assam, known for his contributions in the fields of music, dance, painting, literature as well as political activism. 20
International Day of Yoga 2022
21 June 2022. Yoga embodies unity of mind and body; thought and action; restraint and fulfillment; harmony between man and nature; a holistic approach to health and well-being on rhythm, alliteration some repetitions.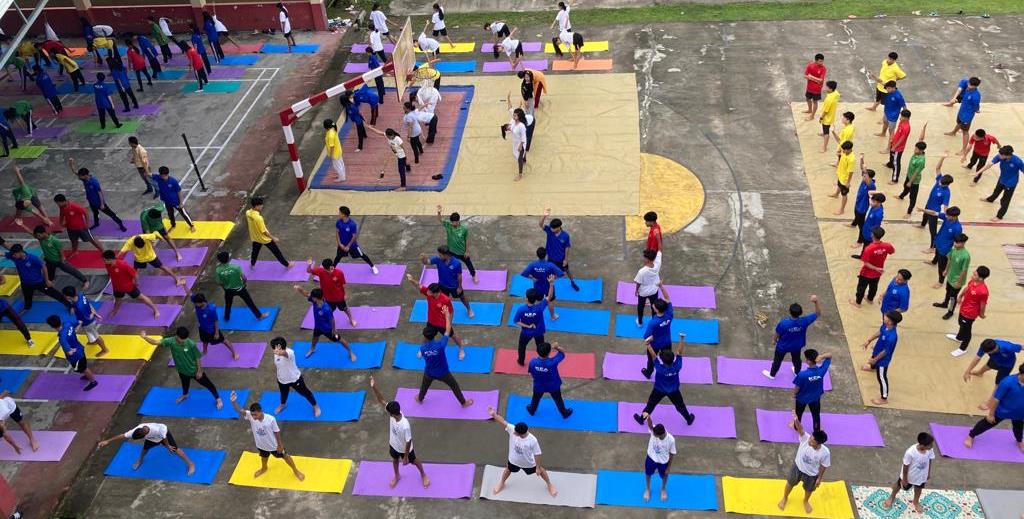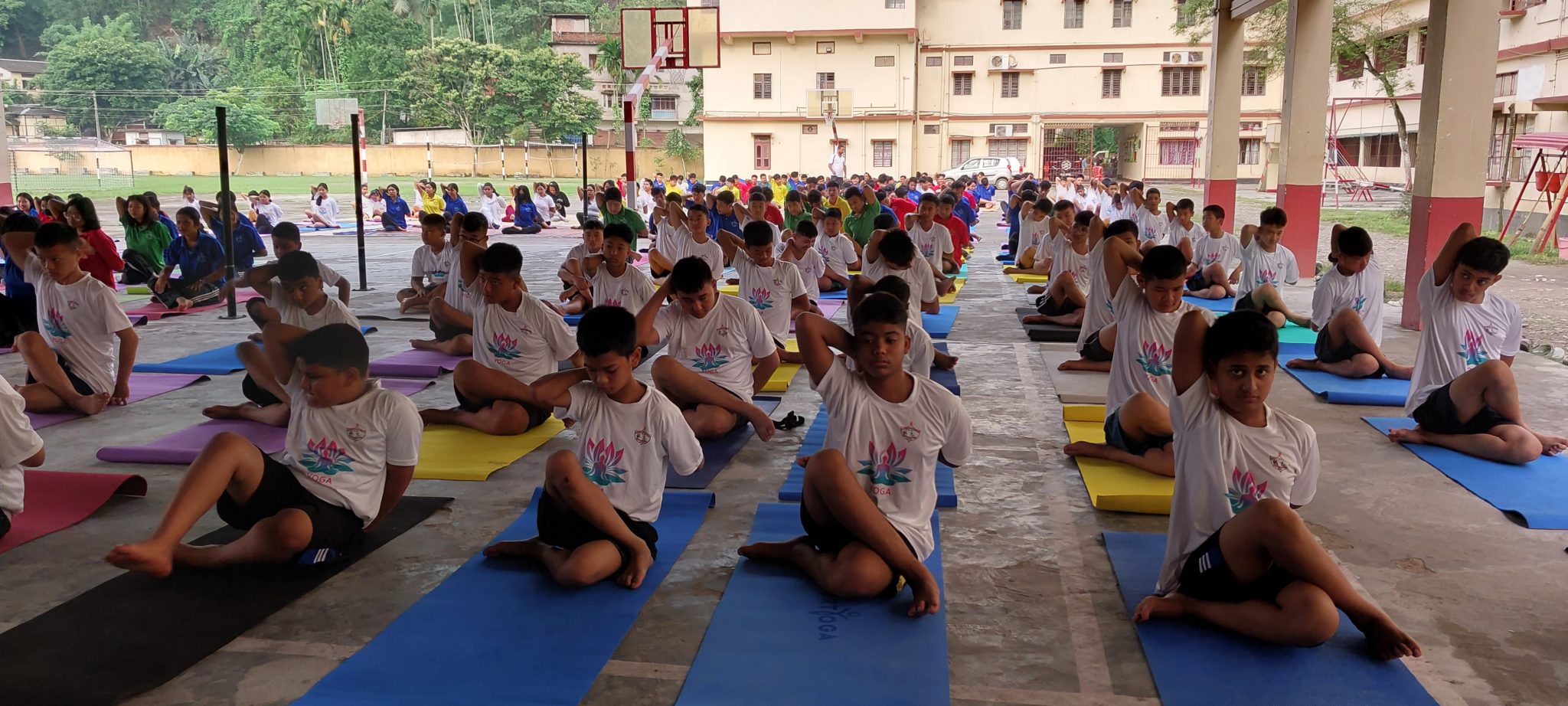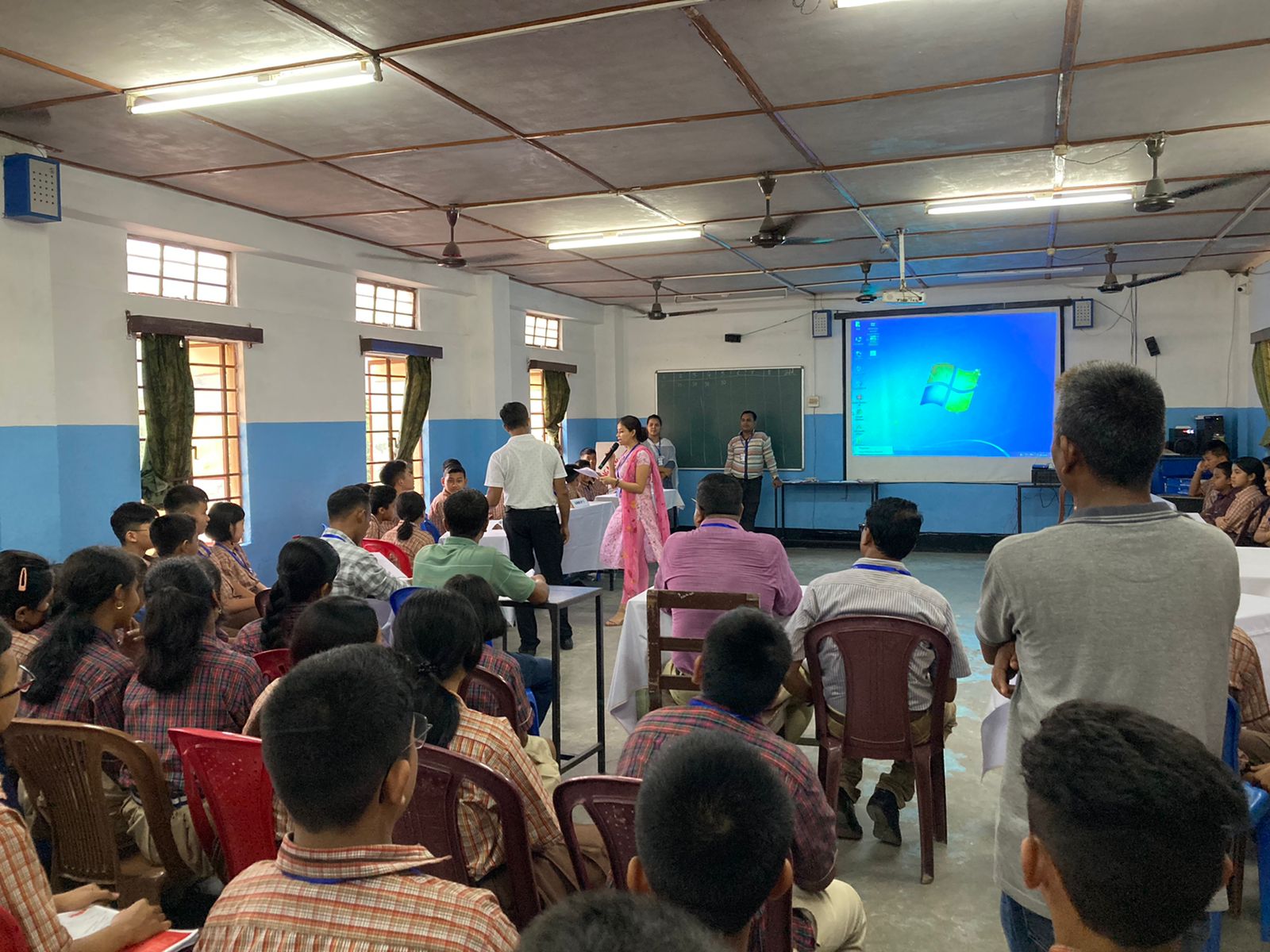 06 Aug 22: Wildlife Quiz among the students of Classes VI to IX.
11 Aug 22. Azadi Ka Amrit Mahotsav is an initiative of the Government of India to celebrate and commemorate 75 years of independence and the glorious history of it's people, culture and achievements.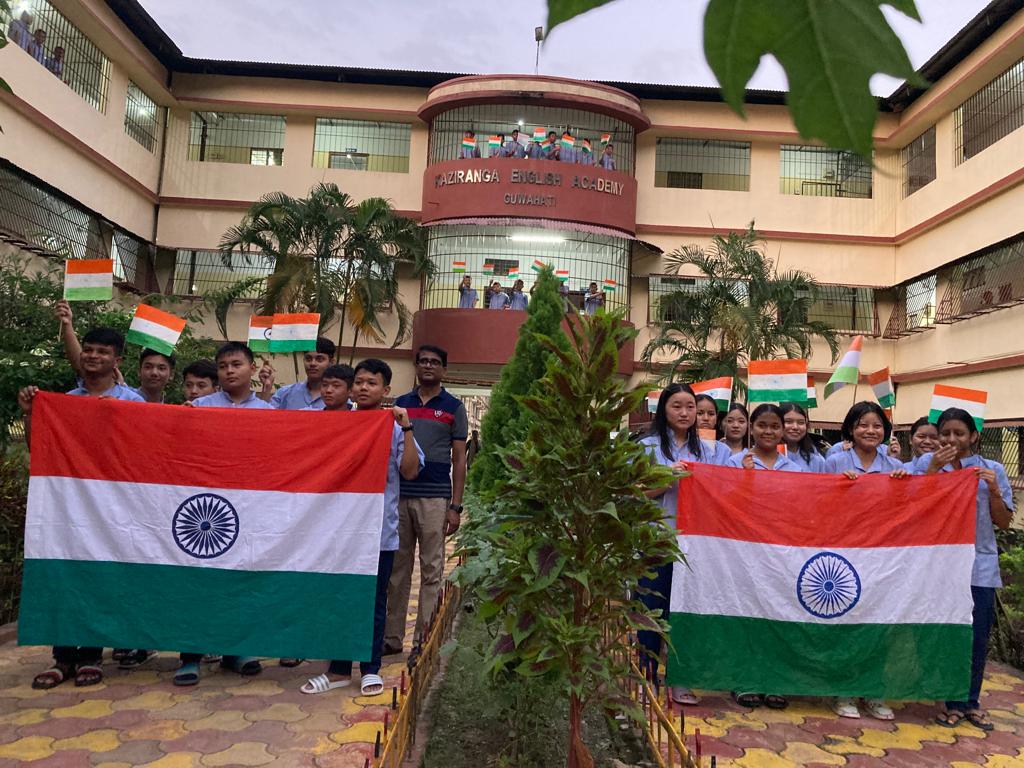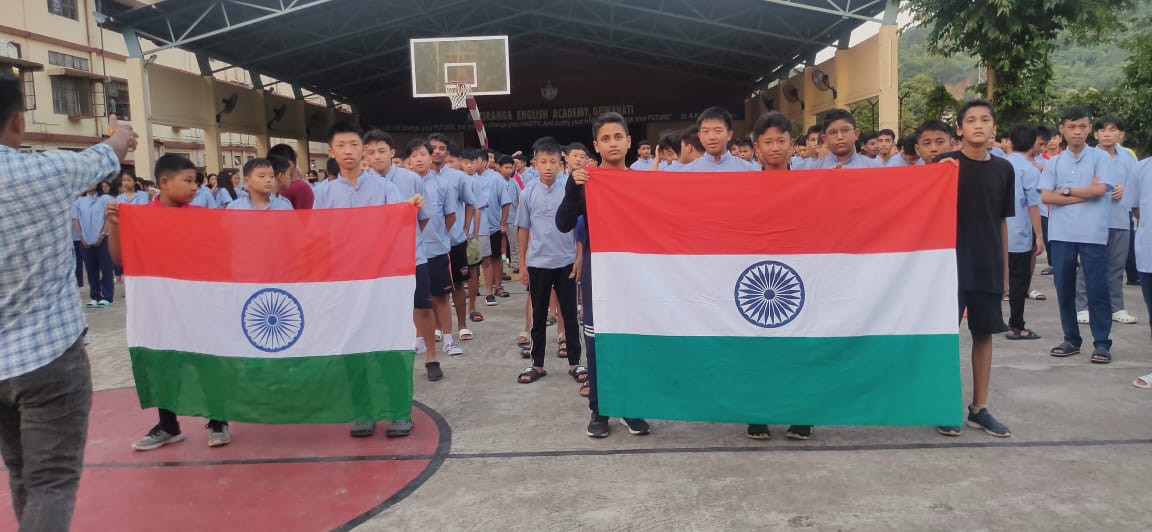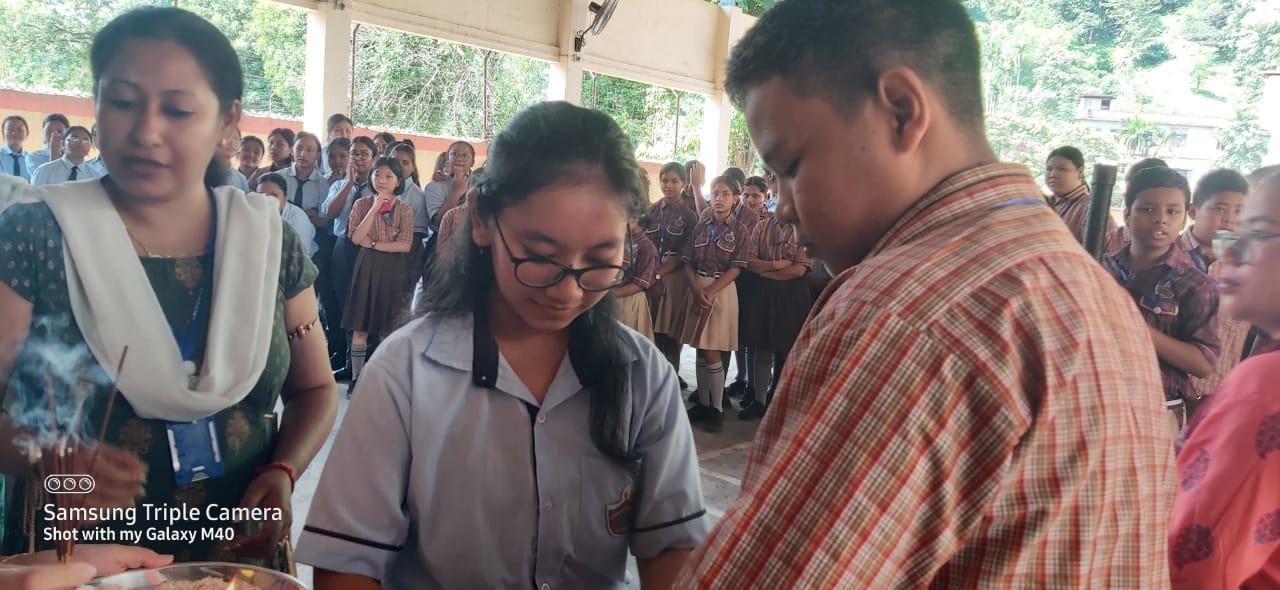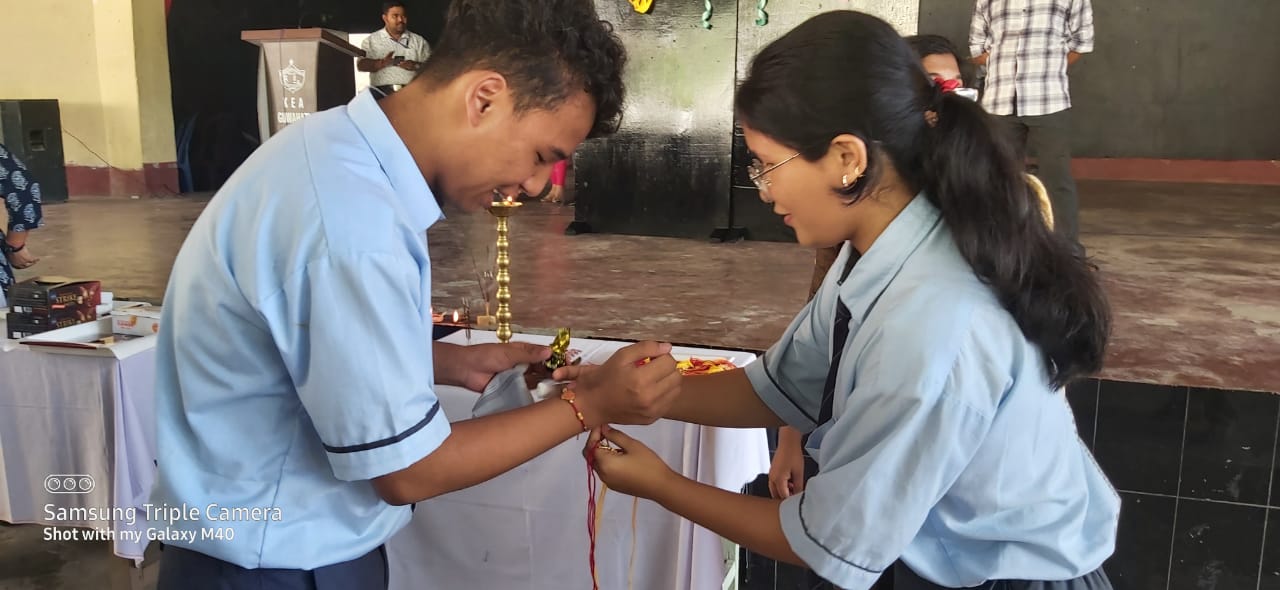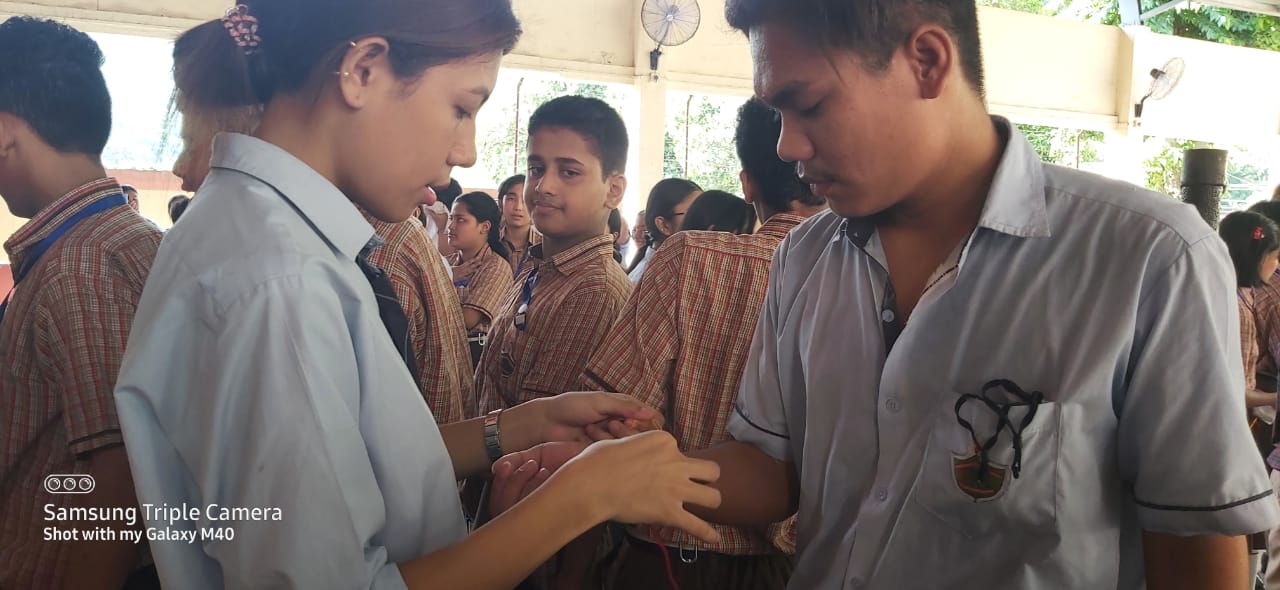 Raksha Bandhan Celebration
12 Aug 22: Raksha Bandhan is the celebration of the love of brothers and sisters. It is one of the most auspicious festivals in India, celebrated with great fun and excitement all over the Country. In this festival, a sister ties the Rakhi thread on the wrist of her dearest brother and prays to God for his protection from all the evils and gives him a long and prosperous life.
Inter-House Soft Board Decoration Competition
13 Aug 2022: Art, craft and creativity is gateway to children's imagination. A competition to decorate their own classroom soft boards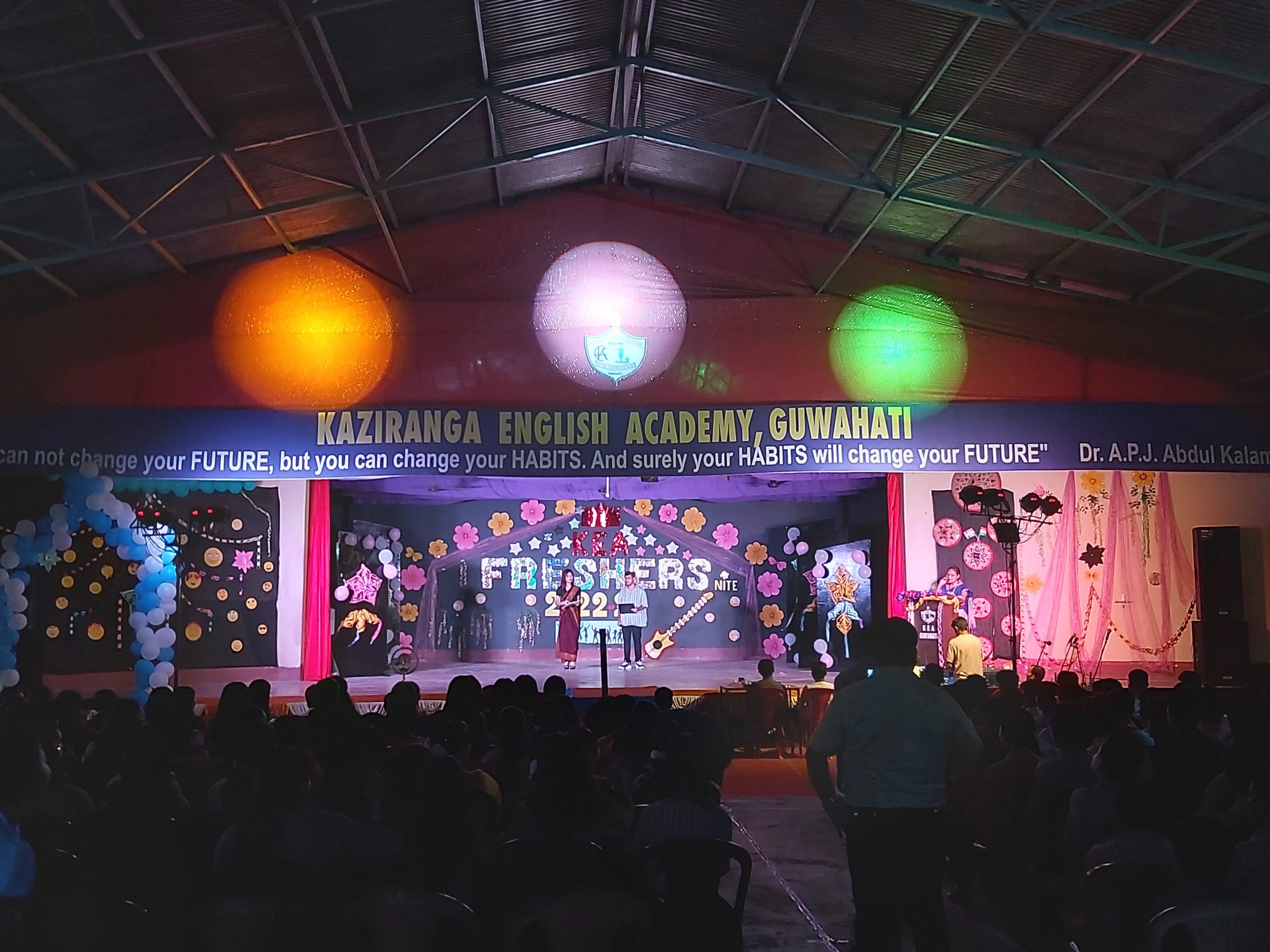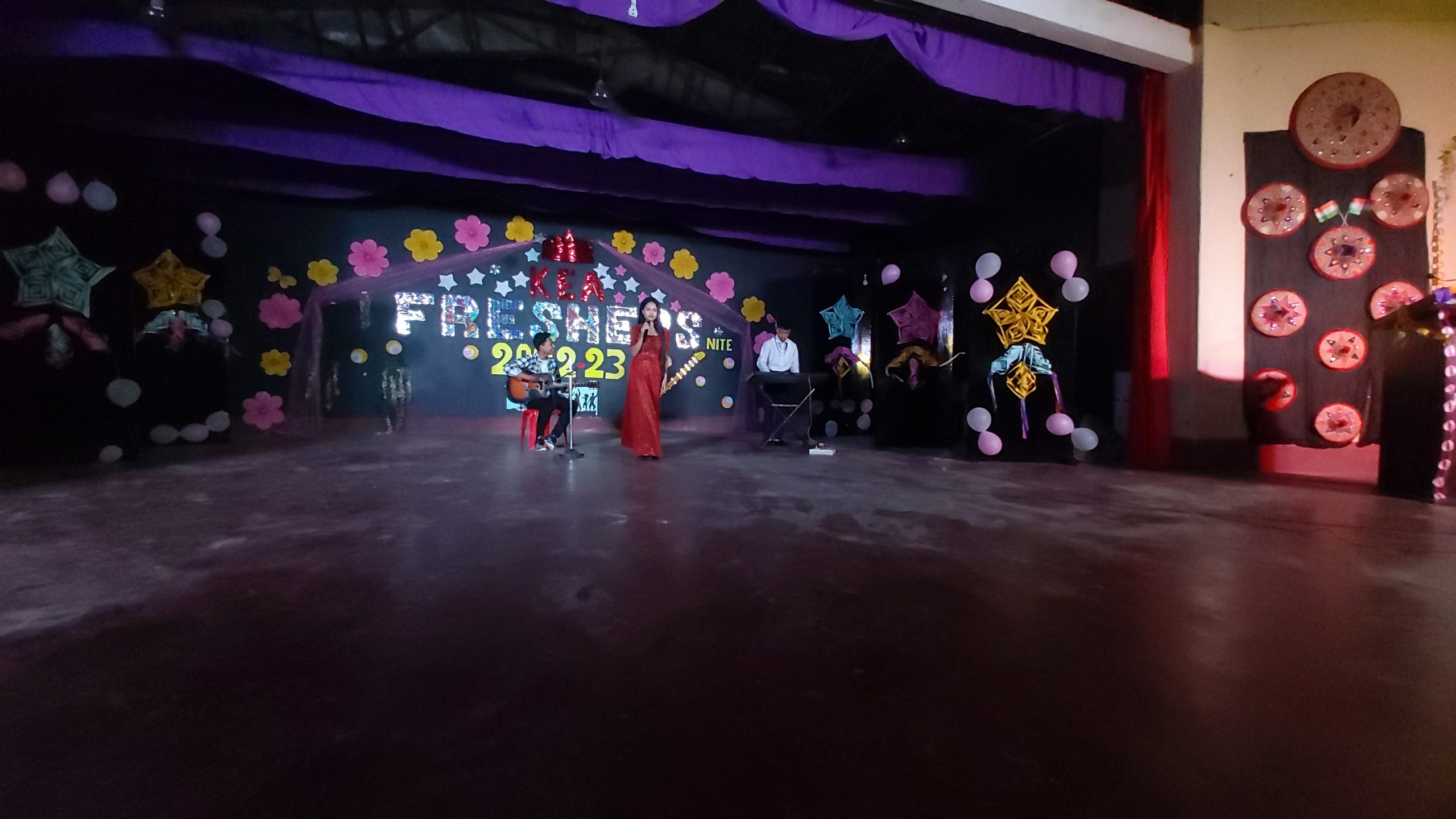 Freshers' Day Celebration 2022
13 Aug 22: Freshers' Day is a welcome party to newcomers and a gesture of extending the friendly atmosphere and to be motivating factors for juniors. The aim of conducting this day is to make the juniors feel welcome and to interact with them. The new academic year brings happiness and joy with the arrival of the juniors.
75th Anniversary of Indian Independence
15 Aug 2022: " Freedom is the result of the sacrifices of yesterday
"Let's salute the nation…..
On August 15 , 1947 India gained freedom from the colonial shackles of the British. It is the day to celebrate the countless sacrifices made by our freedom fighters.
KEA is celebrating 76th Independence Day today and 75 years of independence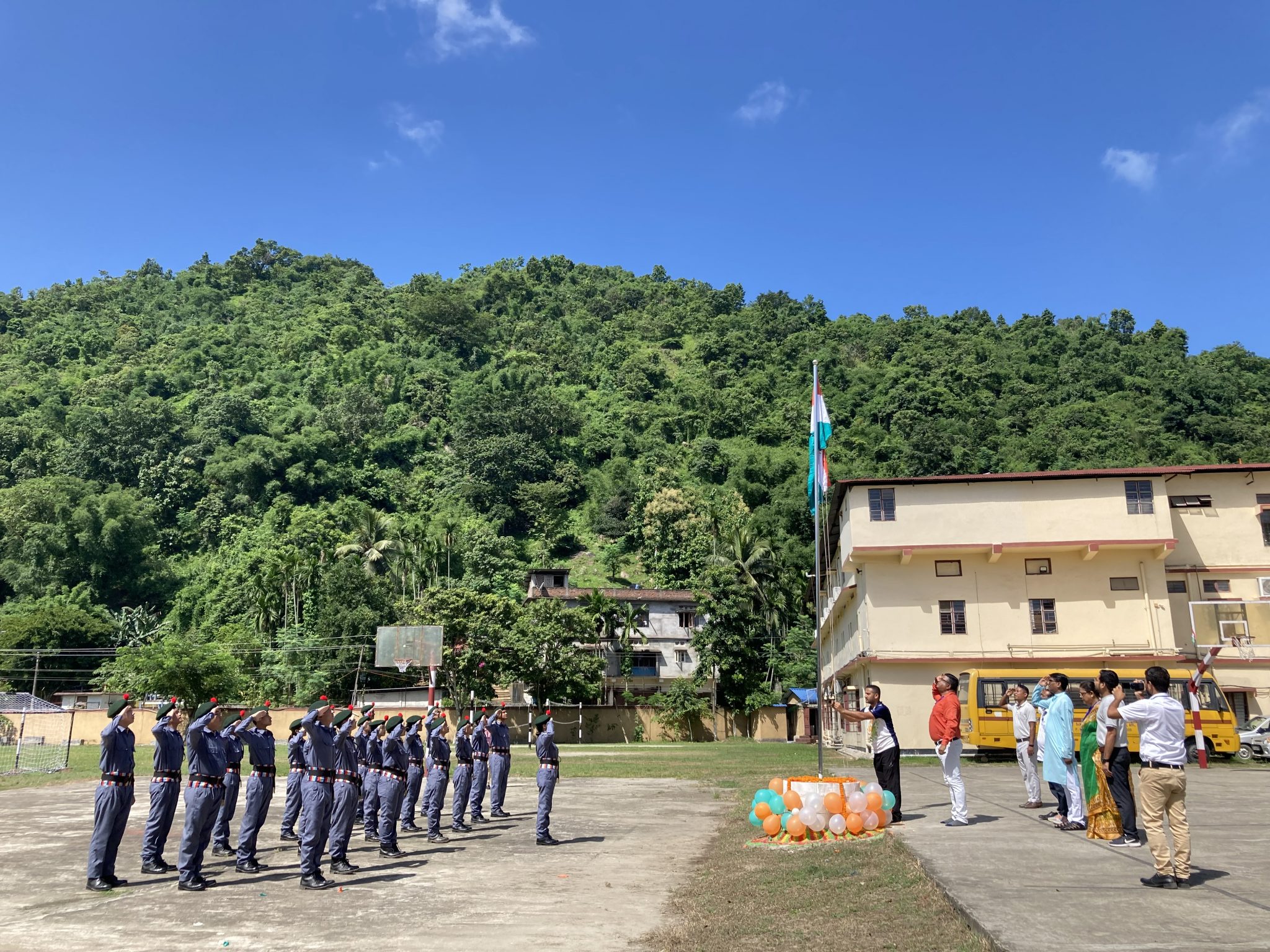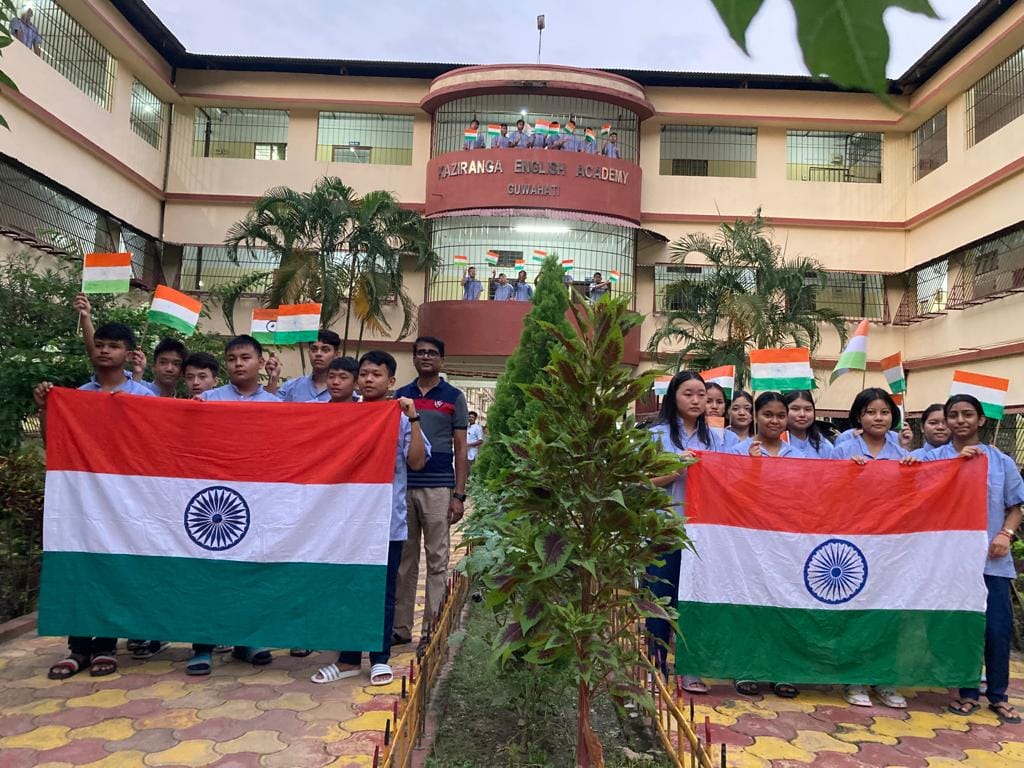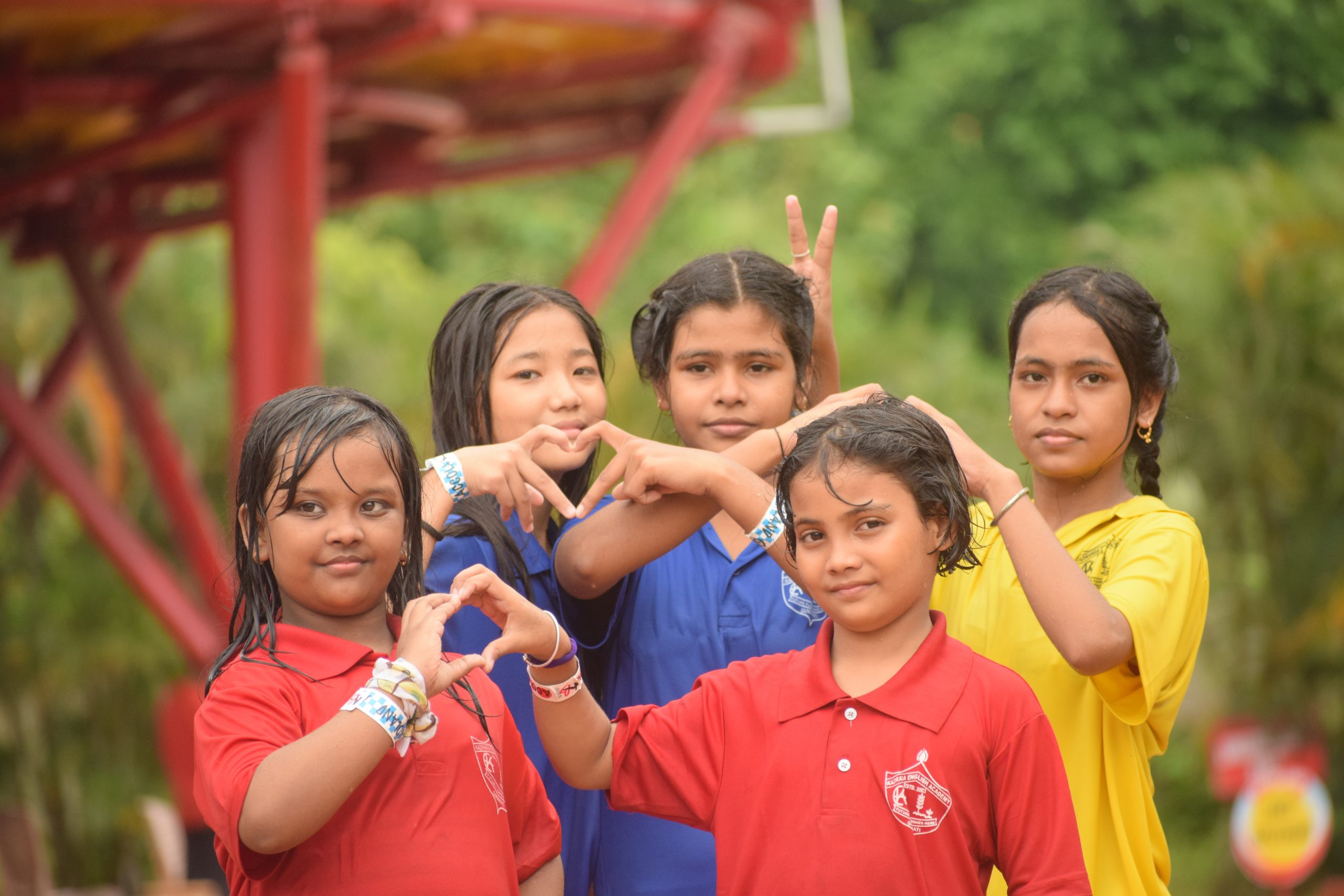 06 Sep 22: Collect moments……not things Amidst the mania and rush in an amusement park…..KEA students are ready to capture the perfect moment with their friends….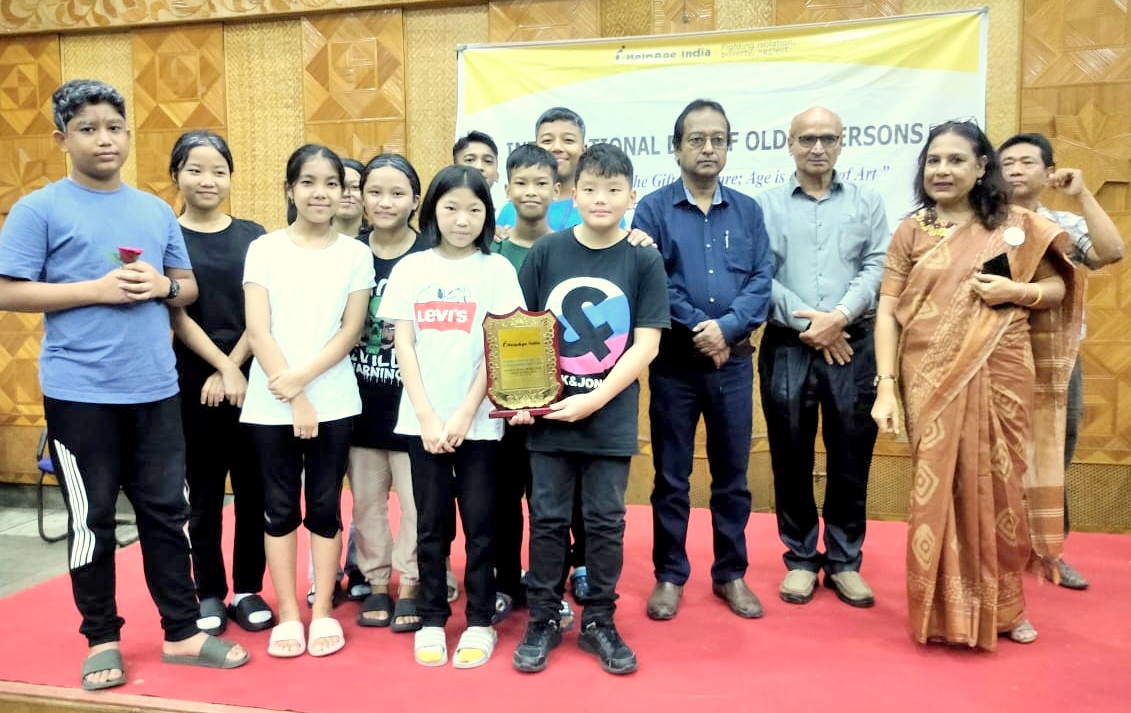 1st position in the ISSSC 2022
14 Oct 22:"self-belief and diligent will always earn you success." Heartiest congratulations to all our well-deserved students, your efforts have really contributed to your success. Here KEA won the 1st position in the Inter school short skit competition 2022, held in Pragjyoti ITA, Ghy. One of our student ' Niwa Lamnio' received special award for his astounding performance.
24 Nov 22: KEA wishes everyone a very Happy Diwali. Let the glowing Diyas, The beautiful fireworks, spice up your life with Happiness and Joy.
Here's a glimpse of our students taking part in the Inter-House Rangoli Competition on the occasion of Diwali.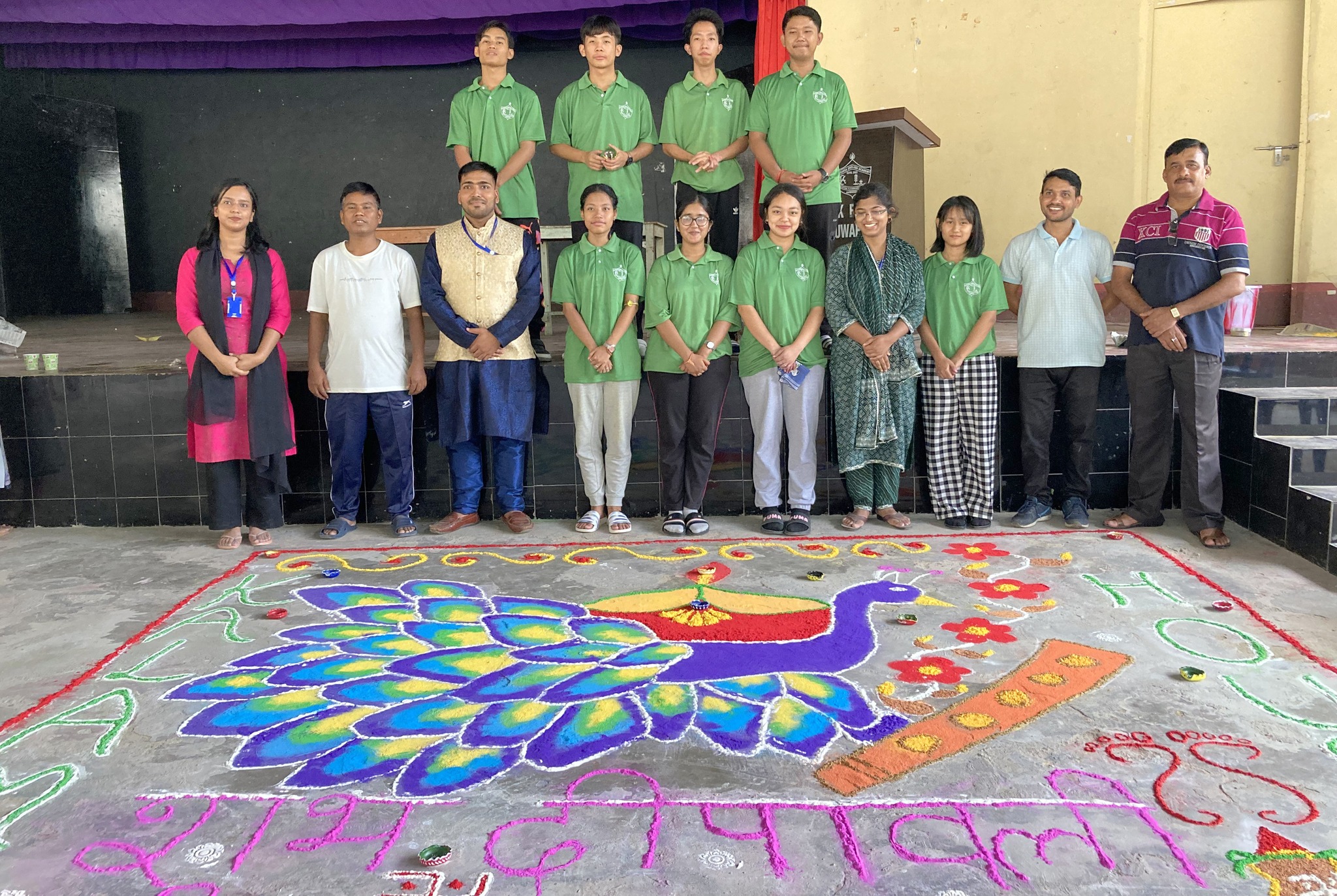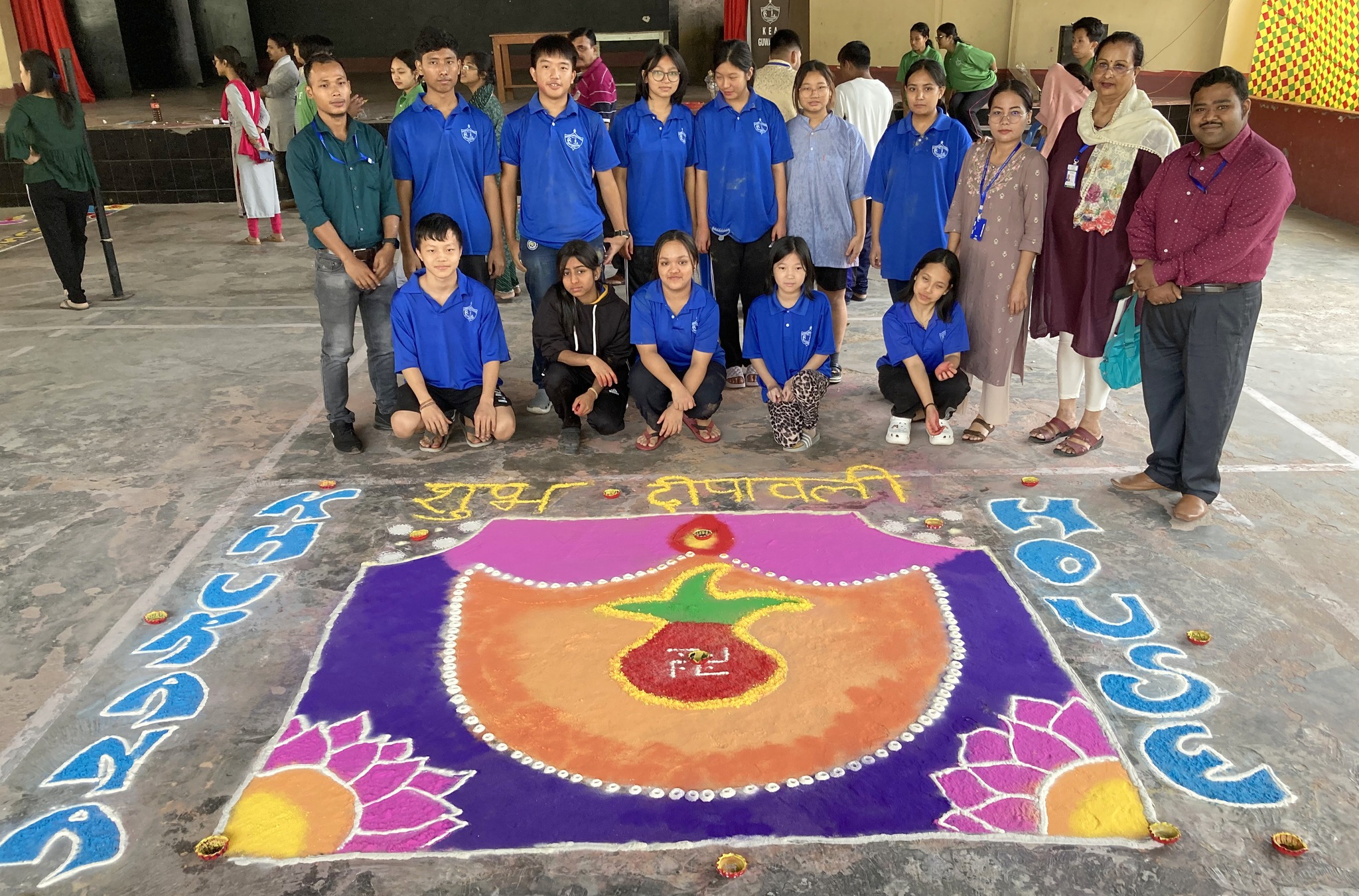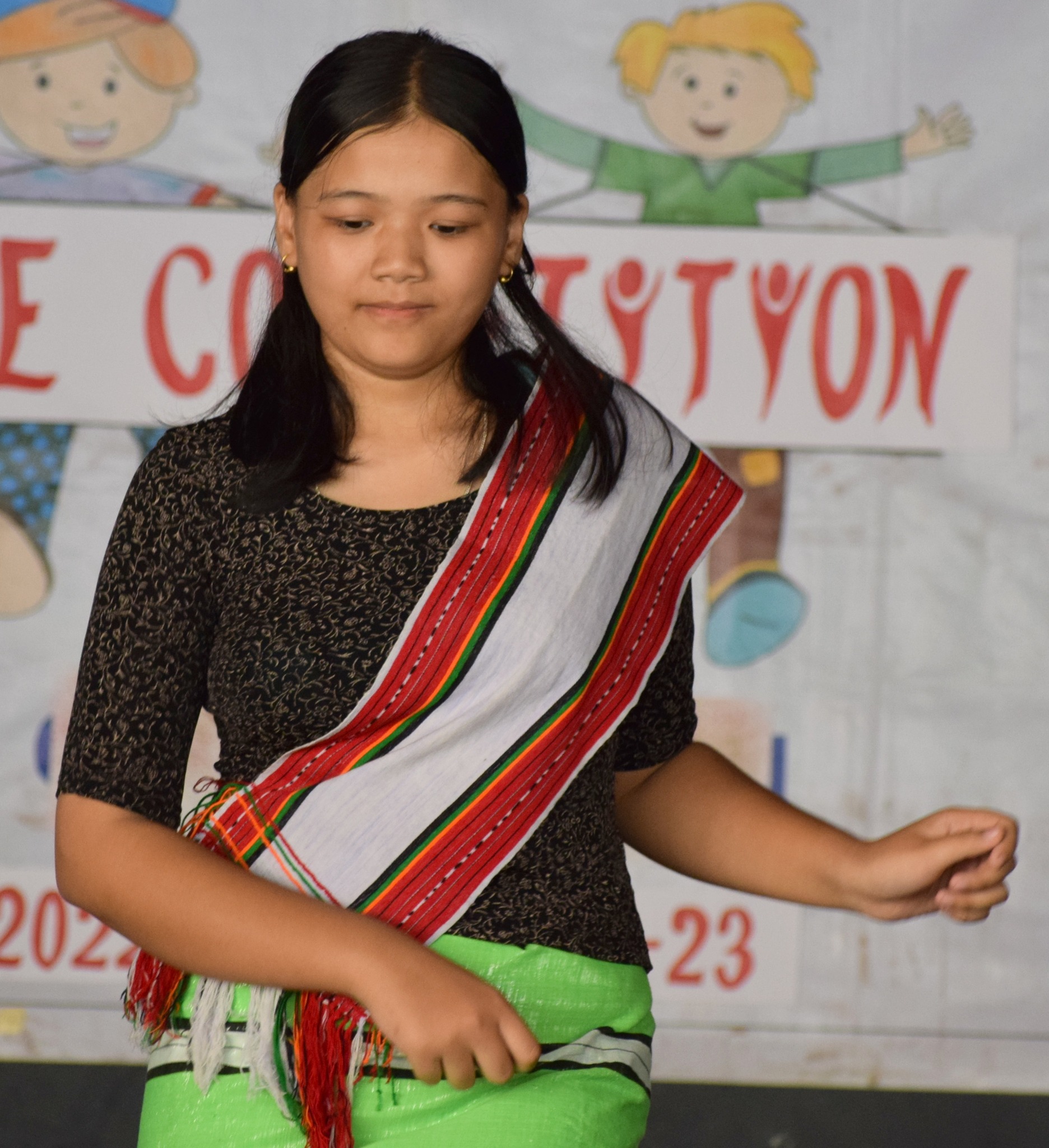 Inter-House Dance Competition
26 OCT 22: Dance is a holistic activity for the mind, body, and soul. It aligns all these, and the participants are more aware of their strengths and weaknesses, allowing them to identify and work on them. Here at KEA, we encourage our students to participate actively in dance. Here are some glimpses of our students pouring their hearts into dancing in the recently held Inter-House Dance Competition.
2nd Nov 2022: Our students of Class XII (Sc) were taken to IIT Guwahati on 31-10-2022. The one-day trip gave the school students a glimpse of #IIT Guwahati's legacy, culture, technical competency, and social values.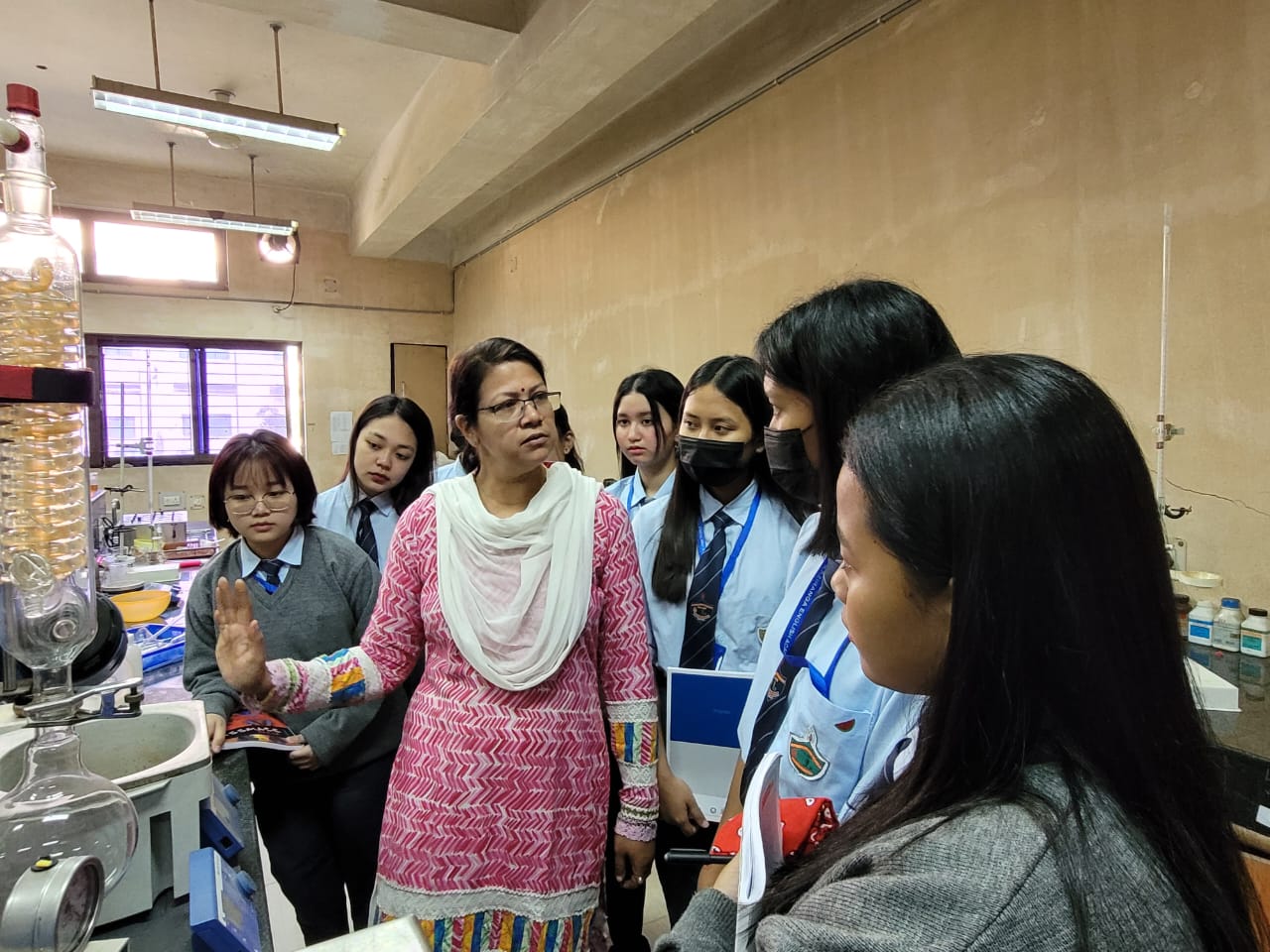 9th Nov 2022: Success is the sum of small efforts being repeated day in and day out. There is no secret to success. Students of KEA have proved that their success is the result of preparation, hardwork and learning.
So, to appreciate the students for their dedication and hardwork in academic field, they were taken to KFC for a treat. Here's some glimpse of the treat.
Throwback from our last Annual Sports Week
Your child may have witnessed well-known athletes sprint down the field, giving it their best on the ice, or working hard on the ground, but they didn't get there on their own; they had pure motivation and encouragement.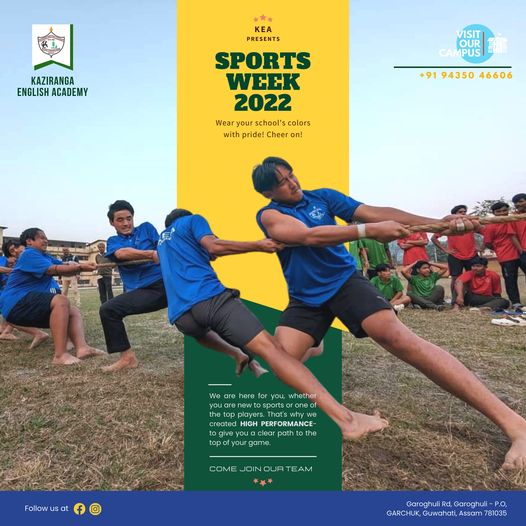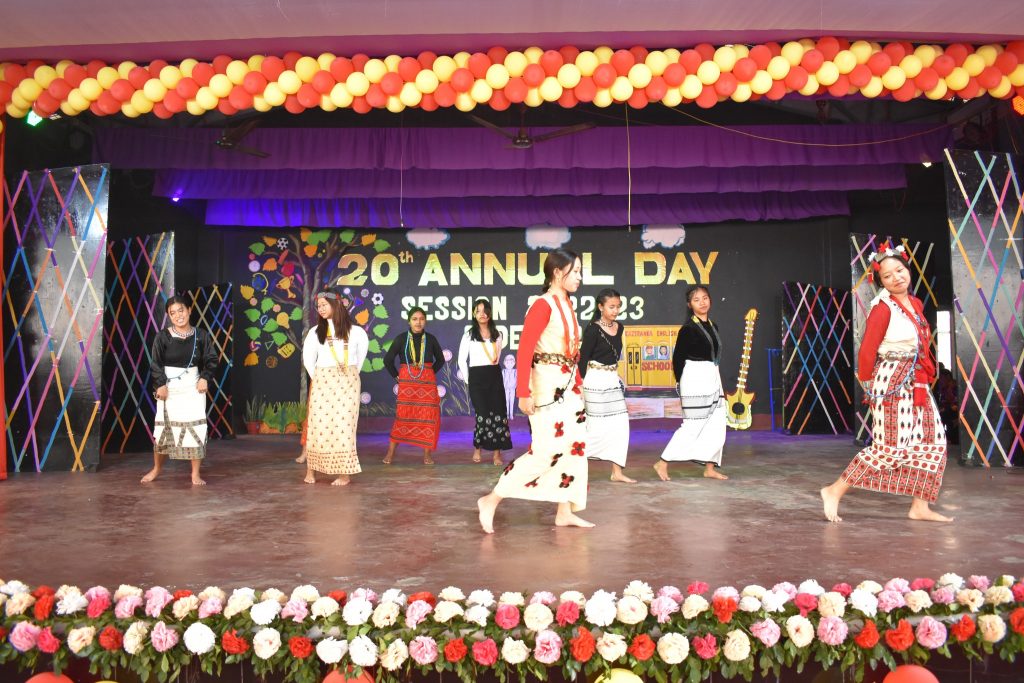 21th Dec 2022: Kaziranga English Academy celebrated its 20th Annual Day on 21st December 2022 in the presence of the eminent dignitaries and our ever supportive parents/guardians with much pomp and gaiety.
17 Jan 2022: আধুনিক অসমীয়া সমাজ, সংস্কৃতি আৰু সাহিত্যৰ এগৰাকী অন্যতম ৰূপকাৰ জ্যোতিপ্ৰসাদ আগৰৱালাদেৱ আছিল আমাৰ আপোন ৰূপকোঁৱৰ৷ অসমৰ জনজীৱনলৈ সীমাহীন অৱদান আগবঢ়োৱা জ্যোতিৰ জ্যোতিয়ে অসমৰ জনজীৱন আলোকিত কৰক চিৰদিন-চিৰকাল৷ পৱিত্ৰ পুণ্যতিথি 'শিল্পী দিৱস'ত সুন্দৰৰ পূজাৰীক জনাইছোঁ সশ্ৰদ্ধ প্ৰণিপাত
৷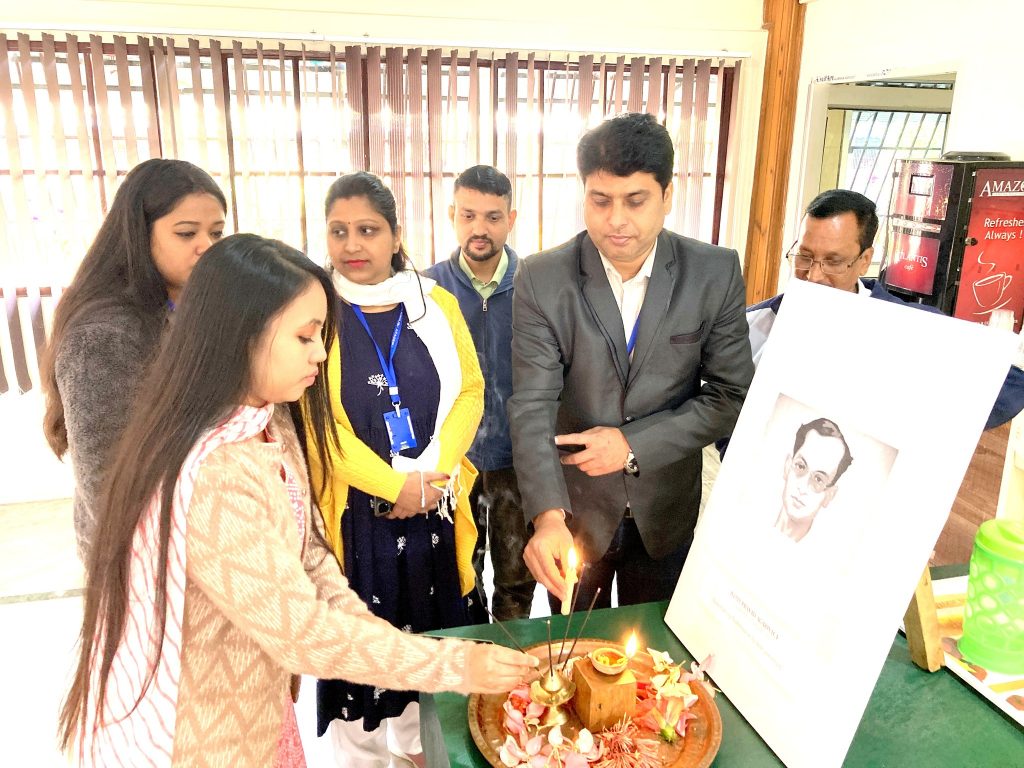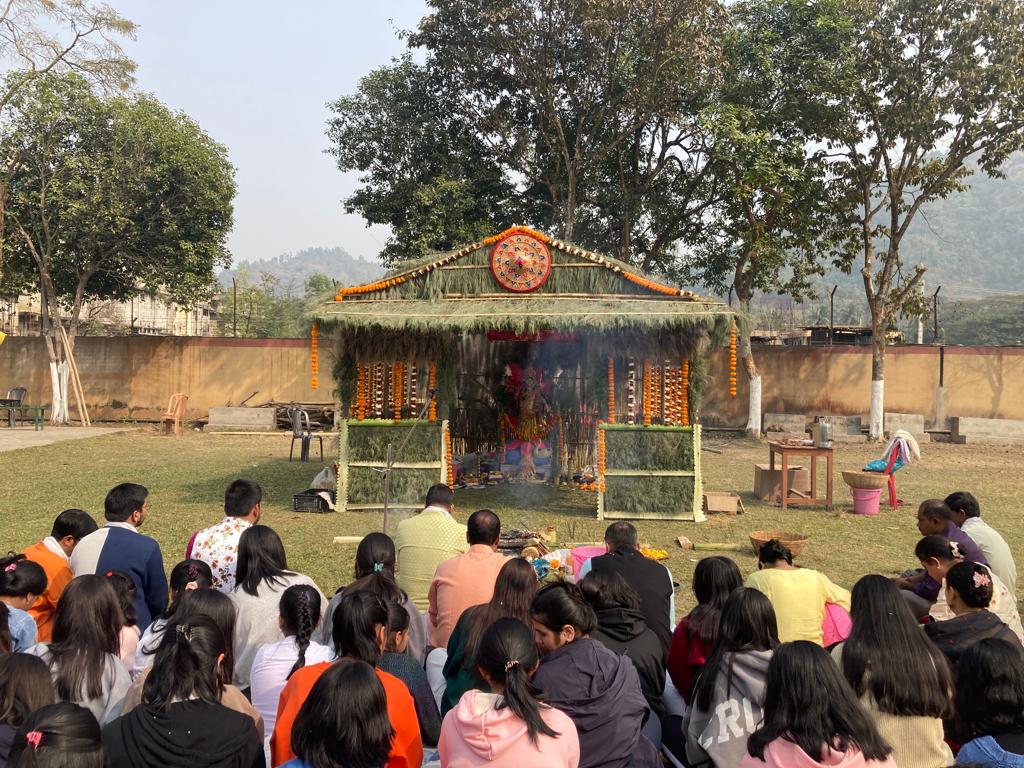 26th Jan 2023: Vasant Panchami, also called Saraswati Puja in honor of the Hindu goddess Saraswati, is a festival that marks the preparation for the arrival of spring. The festival is celebrated in Indian religions in different ways depending on the region. 
26th Jan 2023: Wishing you a happy Republic Day 2023: India will have a party to mark the 74rd Republic Day. On January 26, 2023, it will be Republic Day. On this date in 1950, the Constitution went into effect. The Indian Republic is marked by Republic Day. People celebrate this day with music, including national songs, the national anthem, and Republic Day wishes. Republic Day quotes, etc.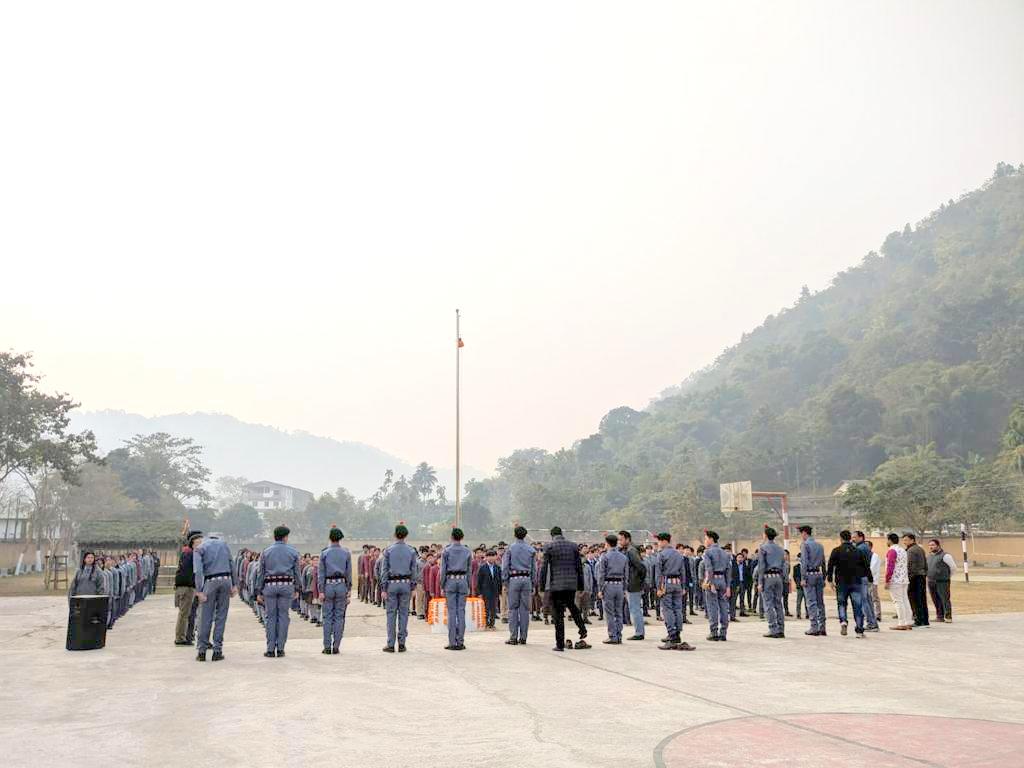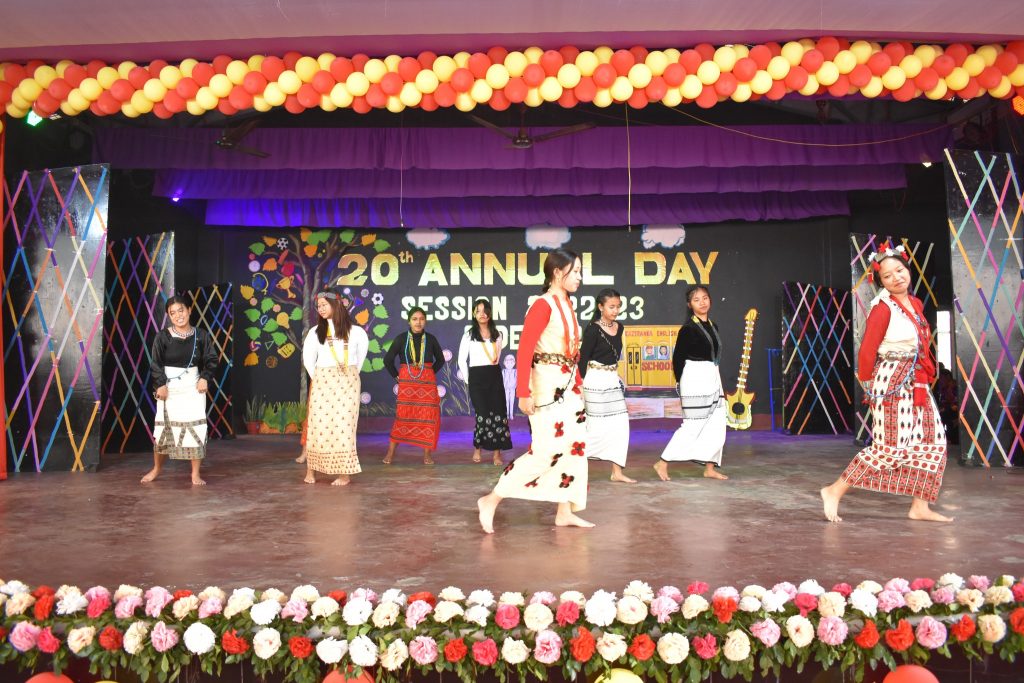 11th Feb 2023: It's sad, but sometimes moving on with the rest of your life, starts with goodbye. Graduating from school is one of the happiest moments of our lives. But at the same time, it's also bittersweet. No matter how hard it is to say goodbye, remember that all farewells do carry a promise of good things and new beginnings. Here's some glimpses of today's farewell of 16th AISSCE batch 2022-23 @ Kaziranga English Academy, Guwahati .
28th February is celebrated as Science Day in India to commemorate the discovery of the Raman Effect. In 1986, Govt. of India designated 28th February as National Science Day. Sir C V Raman discovered Raman Effect which resulted in his winning the Noble Prize in 1930.
National Science Day is a way to recall Sir C. V. Raman and express our gratitude for his contribution to the field of Science. So, our students of class Vlll and IX with the help of the subject teachers have come up with brilliant models – Wind Mill & Wastewater Recycle to honor the day.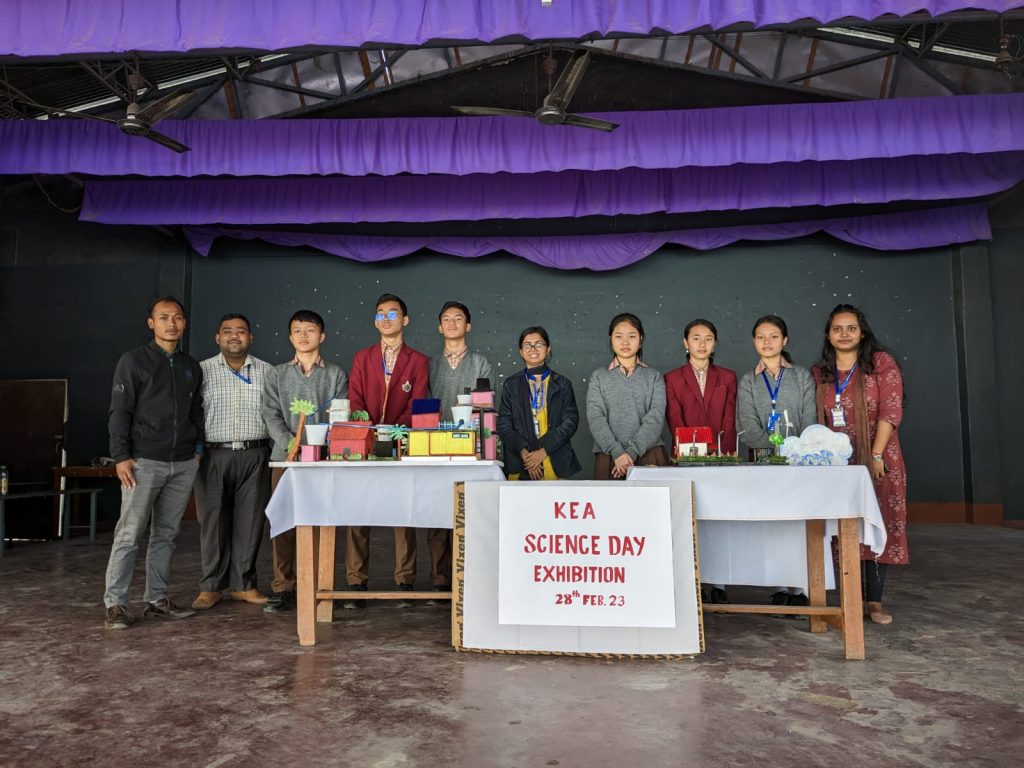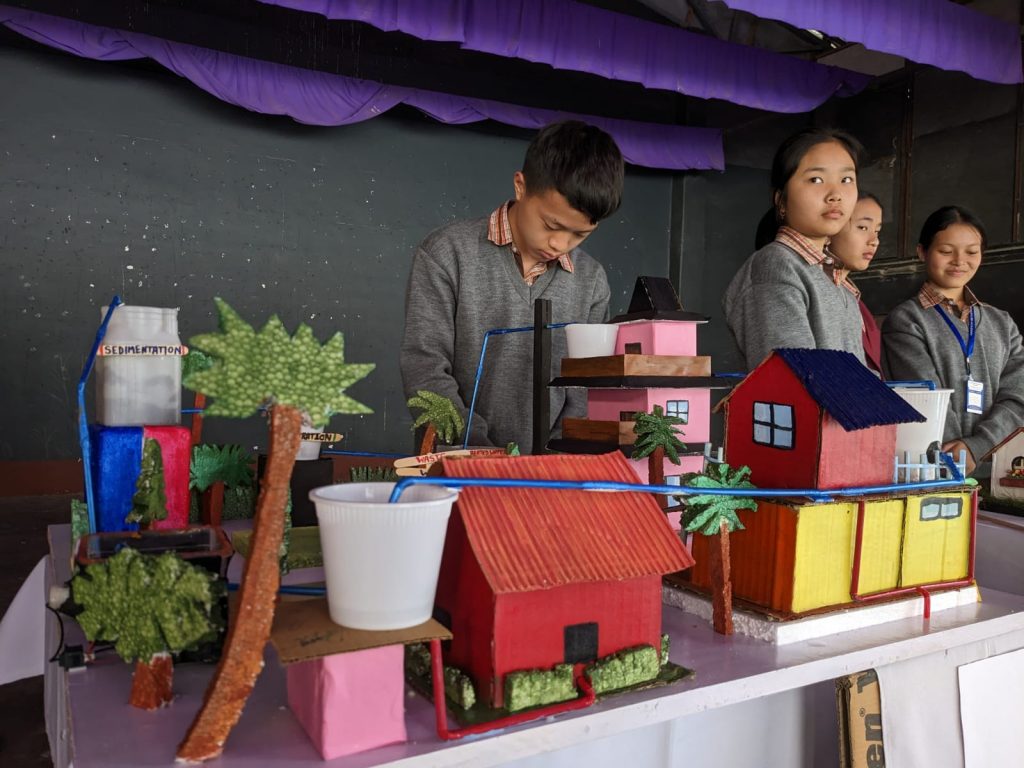 "Education is the key to unlocking the world, a passport to freedom."